The Great American Novel
I knew I wanted to be a writer from the time I was a teenager. By the time I left college and still hadn't found a publisher for my novel of the 60s, I realized it wasn't going to be that easy.

I decided to try something simpler, like a detective novel. But I really hadn't read anything other than The Hardy Boys and Mickey Spillane. One day somebody told me to read Dashiell Hammett and Raymond Chandler. I was immediately hooked, especially on Chandler. Eventually I was ready to try it myself.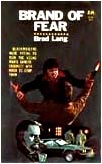 I came up with the idea of a tough detective who was a former hippie AND an ex-cop. Yes, it was a stretch, but I wanted a character who was a liberal and a tough guy, too. After two years of writing and then searching for a publisher, Crockett was finally born in 1976.


Crockett on the Loose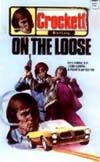 Crockett On The Loose was the first, followed by The Perdition Express and Brand Of Fear, all original paperbacks from Leisure Books. I didn't set the world on fire, or even make a lot of money, but I did have myself some great door-openers to the world of advertising copywriting, and I developed a life-long love for hardboiled detective fiction. Update: Here's an interview and some reviews that were recently added to a great site called Mystery*File.
This Web site is dedicated to that world of excitement. It's a world that continues to grow, with authors like Elmore Leonard, Robert B. Parker, and Michael Connelly adding to the tradition begun by Hammett, Chandler, and MacDonald. I hope you enjoy the book covers, articles, and links, and please send me an email with any comments or questions. (Just don't ask if there'll be another Crockett book!)